This mobile was one of the first things ordered for Jacks nursery, and one of the last things we put up. My initial hope was that a very pregnant me, would help my hubby hang this mobile over Jack crib, as we awaited his arrival (at term).  
Jacks debut however, was much earlier than we expected. After weeks of not being able to look in Jacks nursery, hanging his mobile over his crib was one of the first things we did, in anticipation of his NICU discharge, and homecoming. 
Jacks mobile is by far, my favorite, and most treasured baby item. He loves it as much as I do. He has been spellbound by it, ever since he came home from the hospital. It captivates him. It excites him at times, and makes him feel playful. Most of the time it calms him, and quiets him, and helps him drift off to sleep.
His mobile is something I want him to pass down to his own children. You know…if doesn't reach up there, rip it down, and tear it to pieces one of these days.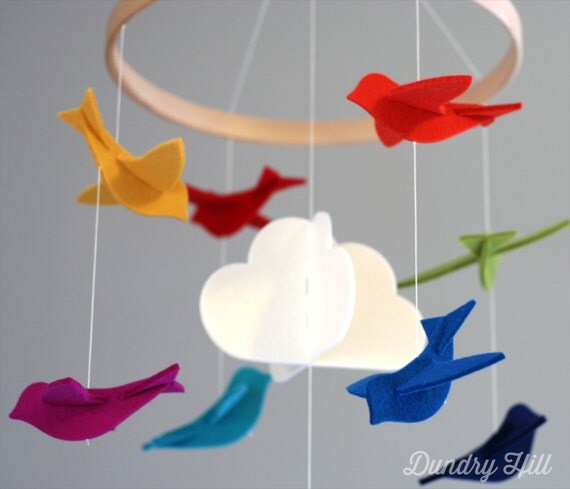 100% Merino Wool Felt Baby Mobile – Eco-Friendly – Rich, Lightfast Colors – Heirloom Quality – Rainbow Birds Modern Mobile